Genesis Offroad - GEN 3 Jeep Gladiator JT Diesel Dual Battery Kit
Genesis Offroad launched the first completely integrated, easy to install dual battery system for the Jeep Wrangler in 2013. Never satisfied with 'good enough', we have listened to customer feedback and refined our dual battery system to be even better suited to meet the demands of today's off road vehicles and their drivers.

Our purpose remains the same - to allow you to enjoy your aftermarket electrical accessories without worrying about draining down your cranking battery. Even if your cranking battery gets too low to start the engine, simply press a button to jump start from your second battery. Gone are the old days of reading wire schematics to figure out how to add a second battery to your vehicle with a manual selector switch or isolator device. Genesis dual battery kits are completely pre-wired for you out of the box for easy installation. No wire strippers or crimpers required!

What's new with GEN 3:

1 - New heavy duty battery combiner
Allows your engine's alternator to charge your cranking and accessory batteries. Connects batteries together in parallel while driving, then separates them once the voltage drops below 12.7v to protect your cranking battery from getting drained by your accessories.
Rated for 300 amps continuous current flow, and spikes of up 2500 amps for 10 seconds to handle anything you can throw at it.
Compatible with all modern high output alternators.
Uses NO power to keep batteries connected, allows batteries to stay fully charged when not in use and run accessories even longer.
Generates NO heat, since no current is flowing through it while the batteries are connected, the battery combiner produces no heat at all.
More robust and more reliable design means more worry-free adventures

2 - New boost button
Now includes 3 user-selectable modes - Auto, On, and Off
'Auto' mode automatically connects batteries when either one is above 13.1v for 90 seconds, and disconnects them when they drop below 12.7v for 30 seconds.
'On' mode will manually connect the batteries together. Use this to jump start the engine when the cranking battery is low, or manually provide extra run time to your accessories by using both batteries together.
'Off' mode will manually separate the batteries. Use this when you want to leave the batteries isolated for any reason. Note the alternator will not charge the Aux battery while in this mode.
The green halo light will turn on to indicate the batteries are connected, and the light will be off when the batteries are separated.

3 - New bus bars
Now includes 3 tall studs and 3 small screws for power & ground wire connections
Different stud sizes 1/4", 5/16", and 3/8" give you more flexibility for connecting your heavy duty accessory cables such as a winch, stereo amplifier, air compressor, fuse panels, etc.
Lighter gauge wires such as LED lights, CB, etc, can use the 3 small screws for connecting #10 sized ring terminals.
Any accessories connected to the bus bars will run from the Aux battery and will not drain down the cranking battery.
The protective cover flips up for easy access for routing your wires.

4 - New Heavy Duty Cables
Higher solid copper strand count for more current carrying capacity and more flexibility
Thicker insulating jacket for even more protection from the elements
Heavy duty adhesive lined heat shrink protects the wire from corrosion
Tin-plated copper lugs and post clamps for superior conductivity




New Cover
Our most requested feature!
Completely covers all the electronics and wiring for protection and a cleaner look
Easy flip up access to your bus bars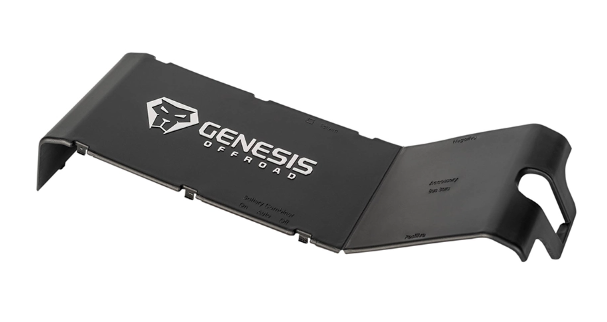 Genesis Offroad GEN 3 System Includes:
Gen 3 Power Hub
Smart battery combiner
Boost switch
Accessory Bus bars
G Screen port
All wiring
Aluminum Enclosure
Adjustable Battery Brackets
Installation Hardware

Battery Options:
Requires one accessory battery, any brand, of the same type as the cranking battery, sold separately.
Battery must be approximately 6.8" DEEP for the brackets to securely hold them in place
We recommend using high quality AGM batteries
Traditional wet lead acid batteries are NOT recommended
Lithium batteries may be used ONLY if the cranking battery is also lithium. Do not mix battery types.
Note the stock cranking battery may be used as long as the new accessory battery is of the same type.